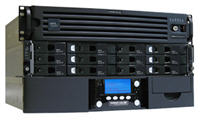 Tandberg DPS Disk Based Backup
DPS1100 and DPS1200 VTL are the next generation of virtual tape in a simple, cost-effective data protection solution. DPS (Disk Protection System) offers an ideal backup, recovery, and archiving solution for small to medium business environments.
Almost immediate access to data.
Dramatically reduces backup and recovery times.
DPS1100 1U Useable Capacity of 2.13TB (RAID 5), (3TB raw).
DPS1200 2U Useable Capacity of 5.25TB (RAID 5), (6TB raw).
Capacities scalable up to 39TB (48TB raw).
Easily expandable with 2U 4.5TB (3.75 useable) modules.
Supports up to 100 host connections.
Dynamic Data Reduction offers up to 10:1 compression ratio
3 years warranty, 1 year onsite service (5x9xNBD).
Additional service options are available.
Use with a tape drive for archives and disaster recovery.
Use StorageLoader LTO with DPS11000.
Use Storage library T24 and T40+ with DPS1200.
Easy to install and configure, via existing Ethernet network.
iSCSi interface (2 x Gb Ethernet).
Download DPS VTL [pdf here]
Please visit our Tandberg Data site @ [tandbergdata.co.uk]
Please [email] or telephone, 01204 396301, for more information.