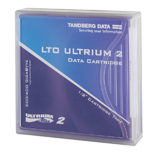 Tape Media Cartridges
We offer a vast range of tape media and cleaning cartridges, from the latest LTO Ultrium technology to DLT4 cartridges. We also have availability of cartridges for older drives, enabling you to continue using your 'oldie but goodie' tape solution.
If you are looking for LTO-4, LTO-3, LTO-2, LTO-1, SDLT1, SDLT2, DLT4, DLTVS1, SLR (all capacities), AIT or RDX media - then we've got availability from a wide range of manufacturers. Some customers like to keep the brand they are familiar with, HP, Imation or IBM for instance, but there is very little difference between the manufacturers, and you can quite easily go from HP to Maxell or TDK.
We monitor media price fluctuations and offer the best price regardless of manufacturer on the day of your enquiry.
Media is usually packed in fives, and regardless of the amount (5 or 100) carriage is a constant £12.95. Small discounts (not much profit in media :) are available for larger orders.
For specific Tandberg Data Media, please visit our dedicated Tandberg website @ [tandbergdata.co.uk]
For a quote, or to express your interest, please send us an [email] or telephone 01204 396301 and we'll get back to you.